Start I Software I
NTSC-US


USA
Dreamcast Spiele, die für den US-amerikanischen Markt bestimmt sind, erkennt man sehr leicht daran, dass die Hülle in weiß bzw. schwarz und der Dreamcast-Kringel in orange/rot gehalten sind. Auf NTSC-US Dreamcast Konsolen laufen nur die dafür vorgesehenen, länderspezifischen Versionen. Andere Versionen (PAL/SECAM//JP/BR/ASIA) können nur mittels eines Hardware-Moddings oder durch den Einsatz von inoffiziellen Boot-CD´s wie DC-X oder Utopia abgespielt werden.
Hüllen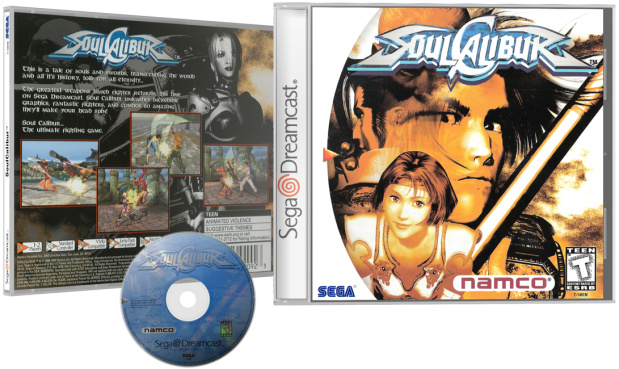 Die erste Version der US-amerikanischen Hüllen erschien in weiß gehalten inkl. des in den USA verwendeten orangenen/roten Kringels in einem Plastik Jewel Sleeve Case.

---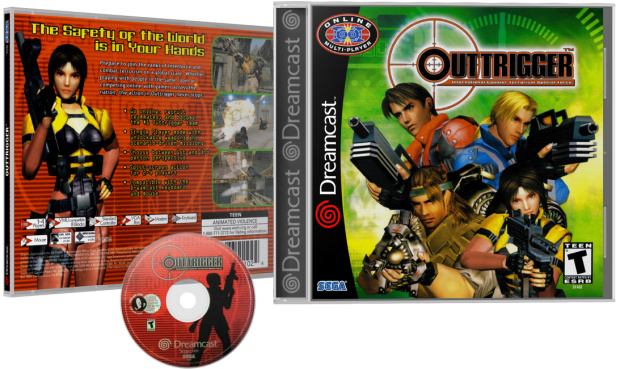 Die zweite Version erschien in schwarz gehalten inkl. des in den USA verwendeten roten Kringels in einem Plastik Jewel Sleeve Case.

---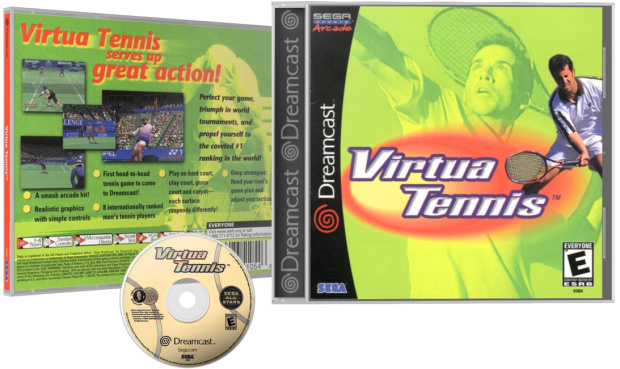 Von 17 sehr erfolgreichen Spielen brachte SEGA die All-Stars Edition heraus, die neben einem reduzierten Preis ein leicht angepasstes Design erhielt. So sind die Seiten des Jewel Case in orange gehalten und auf der GD prangt zusätzlich ein SEGA All Stars Logo.
Die All-Stars Edition Spiele:
Crazy Taxi, The House of the Dead 2, Hydro Thunder, Marvel vs. Capcom, NBA 2K, NBA 2K1, NFL 2K, NFL 2K1, NFL Blitz 2000, NHL 2K, Power Stone, Ready 2 Rumble Boxing, SEGA Bass Fishing, Sonic Adventure, Tony Hawk´s Pro Skater, Virtua Tennis und World Series Baseball 2K1.

---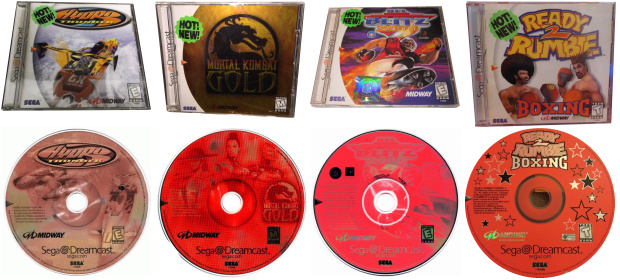 Bei 4 Spielen der ersten Generation hatte SEGA Produktionsprobleme in einer ihrer GD-Presswerke, daher brachten sie von diesen eine Hot! New! Edition heraus, welche nun fehlerfrei liefen. Um die neuen Versionen von den alten unterscheiden zu können, erhielten die Re-Releases sowohl auf der Hülle als auch auf der Anleitung einen Hot! New! Sticker und die GD´s erstrahlten in rot.
Die Red Re-Release Discs:
Hydro Thunder, Mortal Kombat Gold, NFL Blitz 2000 und Ready 2 Rumble Boxing.

Exklusivität
Folgende Spiele gab es nur als US-amerikanische Version:
(und damit weder als PAL/SECAM/JP/BR-Version)

Anteil
Mit 251 Spielen erhielten die US-Amerikaner mit 37,08% aller 671 erhältlichen Dreamcast Software etwas (30) mehr als die Europäer, aber immer noch weit weniger als die Japaner, das letzte offizielle NTSC-US Spiel war NHL 2K2 am 14. Februar 2002.